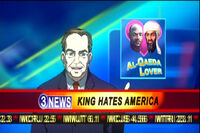 William "Bill" James O'Reilly, Jr. is a television host and right-wing activist, who hosts the Fox News program The O'Reilly Factor. He has been spoofed by The Boondocks, where he is voiced by Jim Meskimen.
O'Reilly first appeared in "The Trial of R. Kelly", in which he talks about R. Kelly's sex scandal and upcoming trial.
He also appears in "Return of the King". In a what-if scenario where Martin Luther King Jr. survived his assassination attempt, O'Reilly attacks King for maintaining his pacifist views even after 9/11, which O'Reilly considers unpatriotic.
Appearances