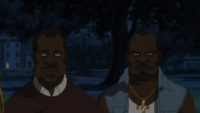 Darrel Ruckus is Uncle Ruckus' younger brother, and the twin brother of Darryl Ruckus. Uncle adores both of his brothers, happily laughing and chatting with them the second the opportunity arrived (digging their grandmother's grave together). Darrel is a boss of his own motorcycle shop, and he has a white wife. In spite of his grandmother and father, Darrel is perhaps the most thoughtful and sympathetic member of the immediate Ruckus' family - he was the one who deduced that perhaps Mr. Ruckus' abuse was a misguided attempt to toughen his sons up for a tough world.
Ad blocker interference detected!
Wikia is a free-to-use site that makes money from advertising. We have a modified experience for viewers using ad blockers

Wikia is not accessible if you've made further modifications. Remove the custom ad blocker rule(s) and the page will load as expected.