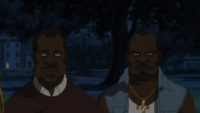 Darryl Ruckus is Uncle Ruckus' younger brother, and the twin brother of Darrel Ruckus. Uncle adores both of his brothers, happily laughing and chatting with them the second the opportunity arrived (digging their grandmother's grave together). He is an accountant for a "white-run" finance company, and just got a promotion from his white boss. In spite of his grandmother and father, Darryl is the most obliging member of the immediate Ruckus family, taking it upon himself to look after both his parents and grandmother (although the latter attacked him with a razor for his troubles). He continued to take care of his mother after the passing of his grandmother and father, driving her and her white lover home from Woodcrest. However, he is greatly aware of their mother's great delusions.
He and Darrel are considered to be the only decent members of the Ruckus family.
Ad blocker interference detected!
Wikia is a free-to-use site that makes money from advertising. We have a modified experience for viewers using ad blockers

Wikia is not accessible if you've made further modifications. Remove the custom ad blocker rule(s) and the page will load as expected.