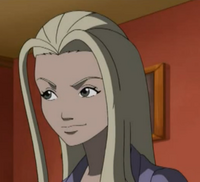 Janet O'Siren (voiced by Candi Milo) is a woman who used to frequent The Itis restaurant.
History
She first appears inside The Itis with the owner Ed Wuncler I, to thank the manager Robert Freeman for the food and service. Robert is more than glad to receive compliments from such a pretty young lady.
However when Robert meets Janet again, she has turned into an obese junkie addicted to soul food. She harasses Robert, forcing him to giver her another Luther Burger. She then runs across the street to Meadowlark Park, crying about her pathetic situation and transformation.
Later in the climax of the episode, Janet (who has lost all that fat thanks to liposuction and gastric bypass surgery) is threatening litigation against The Itis, blaming it for her health problems. Wuncler and Robert agree on an out-of-court settlement, closing down the restaurant to avert any lawsuit. However Janet asks to be served one last Luther Burger, which gives her a heart attack. But fortunately, a Mexican employee named Chico performed CPR on her.
Appearances
Ad blocker interference detected!
Wikia is a free-to-use site that makes money from advertising. We have a modified experience for viewers using ad blockers

Wikia is not accessible if you've made further modifications. Remove the custom ad blocker rule(s) and the page will load as expected.