The
Woodcrest Kickball Stadium
is an athletic field in Woodcrest and the host of the annual Harmonious Kickball Tournament between Woodcrest and Wooshung, China. Though built and used for kickball, the stadium has the dimensions (300-315 feet to the outfield walls) and amenities of a baseball stadium. These include a large pitchers mound, dugouts and a backstop, an electronic scoreboard and press box behind home plate, stadium lights, and several concrete bleachers down both foul lines.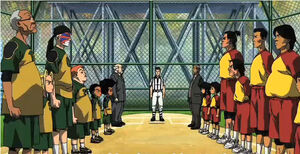 Appearances
Ad blocker interference detected!
Wikia is a free-to-use site that makes money from advertising. We have a modified experience for viewers using ad blockers

Wikia is not accessible if you've made further modifications. Remove the custom ad blocker rule(s) and the page will load as expected.