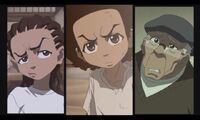 This is a list of characters from The Boondocks comics and show.
Both media
Main
Supporting
Recurring
Supporting
Recurring
Recurring
One-time
More to come...
Season 1
A Date with the Health Inspector
The Passion of Reverend Ruckus
Season 2
Attack of the Killer Kung-Fu Wolf Bitch
The Story of Gangstalicious Part 2
Season 3
It's a Black President, Huey Freeman
Season 4
Stinkmeaner: Begun the Clone War Has
Ad blocker interference detected!
Wikia is a free-to-use site that makes money from advertising. We have a modified experience for viewers using ad blockers

Wikia is not accessible if you've made further modifications. Remove the custom ad blocker rule(s) and the page will load as expected.