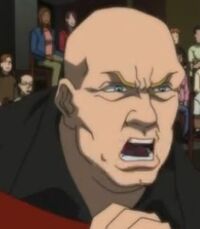 Steven John Wilkos is an American television personality, who is the host of The Steve Wilkos Show. He is parodied in The Boondocks episode "The Story of Lando Freeman", where he is voiced by John DiMaggio.
After Robert Freeman encounters his alleged son Lando, the two men appear on The Steve Wilkos Show to take a DNA paternity test, which seems to confirm Lando's claims. Wilkos angrily confronts Mr. Freeman, accusing him of being a deadbeat dad, which leads to Lando fighting with Wilkos. But eventually it's revealed that the actual results of the DNA test were hidden; in reality, Robert wasn't actually Lando's father.
Ad blocker interference detected!
Wikia is a free-to-use site that makes money from advertising. We have a modified experience for viewers using ad blockers

Wikia is not accessible if you've made further modifications. Remove the custom ad blocker rule(s) and the page will load as expected.