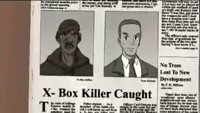 Terrell Jackson (AKA the Xbox Killer), is a local Woodcrest resident who was convicted of killing 16-year-old Antoine Michaels over a game of Madden 2006, as well as another unknown victim. Tom DuBois was suspected of being the Xbox Killer, but at the last minute, was released from police custody. It also states that he bragged about the killing multiple times. Witness saw him doing the crime.
Less than an hour after Ed III and Rummy robbed the mini-mart, the Xbox killer struck again. This time, he was arrested and found guilty of his crimes.
He was seen in the newspaper the day after he was arrested. Note the drastic difference between his and Tom's features. The police claims that Tom looked like Terrell when Tom doesn't even match the description.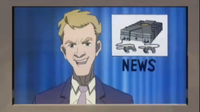 Trivia
The Xbox Killer represents the incompetence of police work and investigation, and is an example of racial profiling.
Ad blocker interference detected!
Wikia is a free-to-use site that makes money from advertising. We have a modified experience for viewers using ad blockers

Wikia is not accessible if you've made further modifications. Remove the custom ad blocker rule(s) and the page will load as expected.