Thugnificent
Talk

1
189pages on
this wiki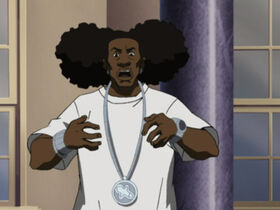 Otis Jenkins, better known by his stagename Thugnificent (voiced by Carl Jones): A once-famous rapper and Riley's most recent idol, Thugnificent hails from the fictional town of Terra-Belle, Georgia. His narcissism is unmatched, epitomized by the ubiquitous statues of himself, designed to mirror Ancient Greek gods in their style and pose, that adorn his white-and-gold mansion, as well as by a painting depicting himself standing above Martin Luther King, Malcolm X, Tupac Shakur and The Notorious B.I.G.
Soon after moving into the neighborhood he begins a rivalry with Robert and later initiates Riley into his entourage, the "Lethal Interjection Crew," consisting of himself, fellow rappers Macktastic and Flonominal, whom he met through his record label, and "other niggas he's known his whole life".
Despite his less-than-attractive traits, Thugnificent does attempt to be a good neighbor by asking for permission to throw his loud parties and encouraging face-to-face communication within the neighborhood, and is fairly friendly with most other neighborhood citizens. In "Bitches to Rags," it is revealed that Thugnificent has a bachelor's degree in Communication.
"Bitches to Rags" also reveals that Thugnificent's record sales and popularity have been in sharp decline, mainly because of the arrival of Sergaent Gudda, his album outsold the Lethal Interjection Crew's album, by the end of the episode his home is foreclosed and his belongings auctioned to pay his debts.
Relinquishing his stage name, Otis thus begins a new career as a delivery man (all the while hoping for a reality show to save him from "real work"). Likes to tell people to "eat a dick" In "The Fundraiser", he helps as a delivery man to kids.
He is also a marijuana aficionado having connections to get high quality weed, as a firm critic of the pharmaceutical industry, he ascertains that weed is a superior drug than the pills the companies put out with fewer side effects.
He and Jazmine both have afro-puffs.
Terra-Belle, Georgia is based on Nacogdoches, Texas.
In "Bitches to Rags," Thugnificent shaved off his afro puffs for the rest of the episodes.