The Woodcrest Youth Athletic Complex is an outdoor recrational complex located in Woodcrest. Its only known facility, the basketball court, is shown prominently in the episode Ballin'.
Features
While a facility built for children, the basketball court features large concrete and wood bleachers with two player's entrance tunnels, sideline benches, a press box and scorer's table, a large electronic scoreboard, stadium lights, and professional-style baskets, though the backboards are opaque white and not clear.
The scorboard has the team designations "Ball-A-Holics" and "Visitors," indicating that the Ball-A-Holics are the sole home team. The centercourt logo, however, has the symbol of the Woodcrest Youth Basketball Association (YBA).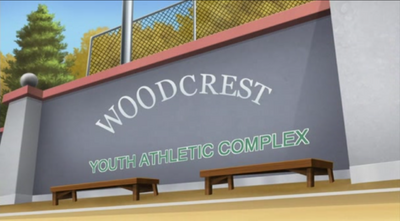 Ad blocker interference detected!
Wikia is a free-to-use site that makes money from advertising. We have a modified experience for viewers using ad blockers

Wikia is not accessible if you've made further modifications. Remove the custom ad blocker rule(s) and the page will load as expected.