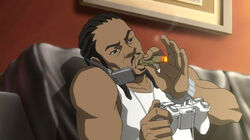 Xzibit is an American rapper and TV host who voices himself in The Boondocks episode "The Real" and "The Story of Thugnificent".
As the host of Pimp My Ride, Xzibit and his crew are invited by Riley to fix and upgrade Robert's old car Dorothy.
Xzibit later returns to help Robert make a diss rap against Thugnificent.
Ad blocker interference detected!
Wikia is a free-to-use site that makes money from advertising. We have a modified experience for viewers using ad blockers

Wikia is not accessible if you've made further modifications. Remove the custom ad blocker rule(s) and the page will load as expected.